Il menestrello dal successo mondiale,
tra gli artisti inglesi di maggior successo degli ultimi anni,
con album ai vertici delle classifiche, singoli diventati delle vere e proprie hit,
numeri da capogiro e numerosi riconoscimenti tra cui un
Independent Music Award, un Ivor Novello ed una nomination ai Brit Award,
arriva in Italia ad Aprile con il nuovo album in studio "RUNAWAY",
pubblicato il 31 agosto via Black Crow Records/Cooking Vinyl/Edel.
DOMENICA 7 APRILE 2019 | ESTRAGON | BOLOGNA
www.estragon.it  
Via Stalingrado, 83, 40128 BO
Biglietto: 29,00 € + d.p.
Prevendite disponibili su www.ticketmaster.it e www.ticketone.it da venerdì 7 dicembre alle ore 11.00
BIGLIETTI DISPONIBILI IN ESCLUSIVA ORA
per tutti gli iscritti alla COMCERTO FAMILY -> https://bit.ly/2QxyrR2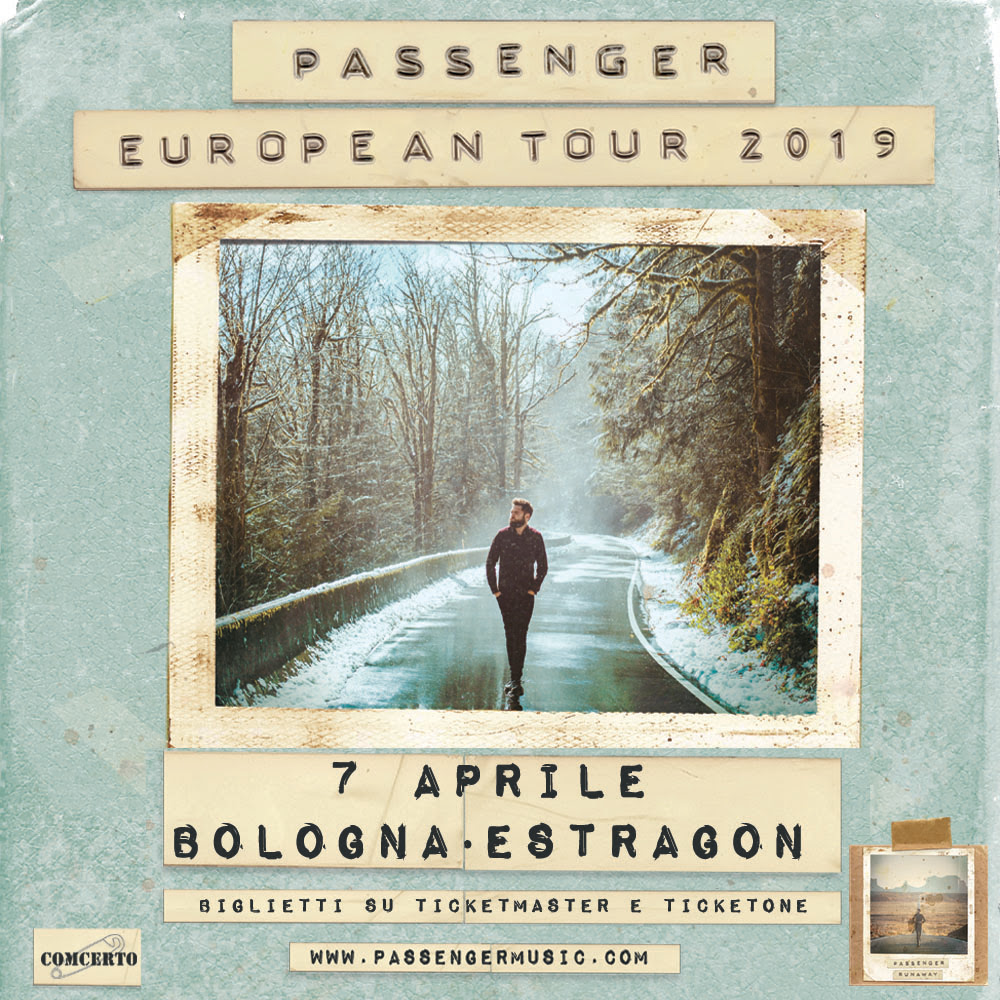 Mike Rosenberg, aka Passenger, arriva in Italia con "Runaway" il nuovissimo album in studio, contenente i singoli "Hell Or High Water", "Survivors", "To Be Free" e "He Leaves You Cold".
Il nuovo disco, il decimo, segue il precedente "Young As The Morning, Old As The Sea", pubblicato a settembre 2016 e che, in una sola settimana dalla sua uscita, ha raggiunto la N.1 dell'Album Chart in UK, Australia, Nuova Zelanda e Svizzera, con singoli al top degli airplays radiofonici e un lunghissimo tour mondiale che l'ha visto impegnato in oltre 97 concerti e 23 busking shows. "Anywhere", brano tratto da "Young As The Morning, Old Has The Sea", ha superato i 60 milioni di streaming. Un successo che, a sua volta, arriva dopo gli ottimi riscontri di "All The Little Things", album del 2012 diventato disco di platino e multi-platino in ben 11 Paesi e contenente la super hit "Let Her Go", brano ai vertici delle classifiche in 19 Paesi, nominato ai Brit Award come singolo dell'anno (2014) e che ha fatto conquistare a Passenger numerosi premi come un Independent Music Awards e un Ivor Novello.
In "Runaway" Passenger ritorna alle sue indimenticabili melodie e ai suoi colossali ritornelli.
Registrato tra Regno Unito e Australia con il coproduttore Chris Vallejo, l'album s'ispira al Nord America, sia musicalmente che nel testo, mostrando un rinnovato approccio di Passenger al pop-folk di matrice americana.  Alcuni dei testi si riferiscono a luoghi specifici, come Detroit e Yellowstone. "Mio padre è americano" spiega Rosenberg, "e noi eravamo soliti andarci in estate quando eravamo bambini. L'ho sempre amata. Immagino di esserne stato sedotto".
"Hell Or High Water", il primo singolo estratto, è una fotografia dei paesaggi e delle atmosfere (naturali e musicali) dell'America del Nord e parla della strada come viaggio, sia in senso stretto sia come metafora del viaggiatore nascosto in ognuno di noi.
Diretto dal collaboratore di lunga data Jarrad Seng, il video di "Hell Or High Water" è il risultato di un viaggio di tre settimane attraverso gli Stati Uniti, i cui paesaggi sono diventati lo sfondo naturale per questo nuovo.
"The song is a personal inquisition, I came out of a relationship a few years ago, and I was just baffled by it. Was it something I'd done? Something she'd done? The video was shot over a few days in various national parks – Monument Valley, Valley Of Fire, Death Valley and Joshua Tree. These epic and vast landscapes really help to portray a feeling of being lost in a hopeless quest for answers." Mike Rosenberg, Passenger
Track listing:
1 Hell Or High Water
2 Why Can't I Change
3 Heart To Love
4 Let's Go
5 Eagle Bear Buffalo
6 Ghost Town
7 Runaway
8 He Leaves You Cold
9 To Be Free
10 Survivors